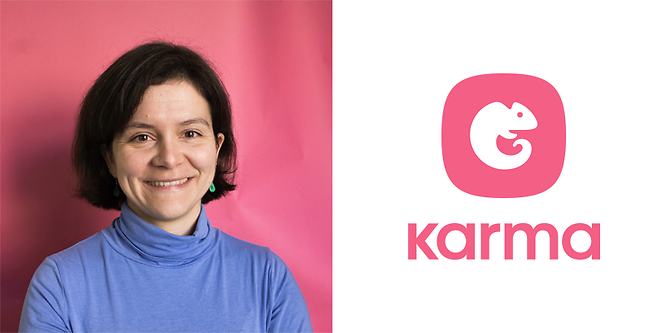 Hi Hélène! So exciting that you're coming to speak at Marketing Automation Day on 26th of November in Stockholm! For someone who hasn´t heard of Karma, can you tell us about Karmas story, vision, goals etc.
Karma is dedicated to battling one of the world's largest climate issues: food waste. With the Karma app, restaurants, cafes and grocery stores sell surplus food to consumers at a lower price. As a result, consumers eat great food while saving money. Businesses receive an additional revenue stream and reach new customers — all while saving the environment. It's a win-win-win.
What is the key-pillars within Karma´s organization that makes the company thrive?
Firstly we're customer obsessed, our users come first. We're always looking into how we can make the user experience smoother, faster and more rewarding. Secondly, we're moving quickly and taking risks, the more bets we take the faster we grow! Lastly, I'm surrounded by the most talented entrepreneurial, fast-moving and hungry colleagues - that's really what makes the company thrive.
How long have you been working with Marketing Automation and how important is it for business?
In various sectors and markets, I've been honing my Marketing Automation skills for the past 5 years. I started using it as a means to grow communities of entrepreneurs in Latin America - I realised early on that automating campaigns for events, education and sales helped maximising results while optimising efforts. This strategy also applied in the B2B markets I later worked in Chile and in the Nordics. While an automated campaign is never just press go and forget about it, but it is amazing to see how small efforts, tweaking and planning can make your results exponential. From aligning campaigns based on user behaviour to reducing repetitive tasks to ultimately increase conversion. At Karma it is key, as our user base grows far faster than our team.
At Marketing Automation Day, you will talk about "How to drive sustainable behaviour change with Marketing Automation on a startup budget". Can you give us a short preview of what you will be presenting?
At Karma we are very much data driven. However, being data driven is only the first step towards building user centric campaigns. Data only shows how the current reality. To take marketing automation from good to great is to act on your data to have your users needs meet with your offer - this is easier said than done!
Karma's mission is to eliminate food waste in the whole food value chain. It is a very powerful mission that everyone supports. However, changing both business and individual habits is not that simple, especially on a startup budget. It's at this sweet spot where we use marketing automation to the rescue.
What do you think will be your biggest challenge 2020?
Maintaining our growth and optimising our campaigns to keep improving our conversion. Constantly training the team and finding the perfect system for us that aligns with our needs and budget.
Don't miss Marketing Automation Day where Helene will speak more about Karmas work!