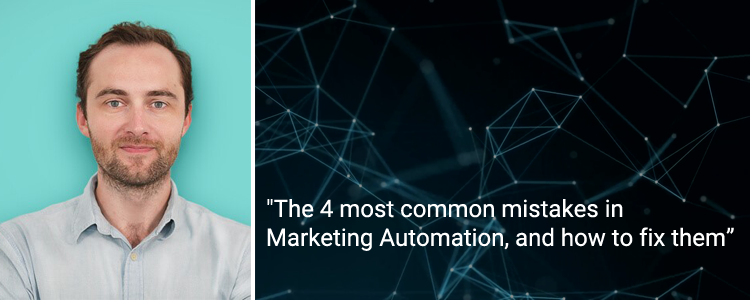 Hi Tim! So exciting that you're coming to speak at Marketing Automation Day on 26th of November in Stockholm!
You have been working with Marketing Automation for a long time, what is your background and how did you end up working with Marketing Automation?
After my studies in business management I had a firm interest in all thing marketing. In 2008 I started at a company called EmailGarage. This was a Belgian company who developed a SaaS tool for email marketing & marketing automation. I had several roles at this company in sales & marketing, and I mainly helped clients outline & setup marketing technology. Throughout the years we evolved from a technology company towards an email & marketing automation agency, helping clients with strategy, content and setup in different tools. This resulted in 2015 in a rebranding from EmailGarage to RAAK. We were the first agency to focus only on email marketing, marketing automation & inbound marketing. Today, I help national & international clients with their marketing automation strategy.
Marketing Automation as a concept has been around for a long time but at the same time it's new, which is the latest trend witihn Marketing Automation?
The buzz in marketing automation is about the use of AI. This will open up a lot of possibilities in the future. However, I think that the main trend is that marketing automation is becoming less and less a technical conversation, and more and more about the strategic possibilites for a personalised customer journey. It brings direct value to the business.
And what does it mean for todays marketeers?
A couple of years ago marketers built a strategy depending on the technical possibilites they have, and thus limit theirselves. What we see now is that marketers build the perfect customer journey, map out their data, build a solid content strategy,... and then look for the technology that can deliver. I am absolutely a fan of this trend because in this case, we put the customer first.
4 reasons why all companies should work with Marketing Automation, small to big companies?
In my opinion, you can link the advantages of marketing automation in 2 main categories:
Performance: it is the ideal approach to increase marketing performance, conversions,... You have a solid playing field to test, optimise and continously improve your results
Engagement: By offering a personalised experience in real-time, customers will have higher brand engagement and more brand affinity.
It's important to know your customers before considering Marketing Automation, what would you say is the 3 most important things to have in place before implementing Marketing Automation?
I think marketing automation is finding the ideal mix between data x content x strategy.
You need a data setup to get started with. This does not mean it have to be the biggest setup from the start; most brands can start with simple email marketing lists and website data.
Data without content is meaninless. So if you have mapped out the right segments or want to trigger content a specific timing, you need a solid content strategy to help you with this. This is what makes the difference
Strategy is the overlaying context that you put over your data and your content. What are the KPI's and the goals? why are you setting up a specific marketing flow? Your strategy should guide you in this.
If I want to implement Marketing Automation in our organisation but I have to convince my boss, what do I say?
Excellent question! I think we can narrow it down quite easily: Your boss will have targets and a budget. You need to prove that your budget will help him reach the target. In essence it means that you have to get your business case right: What is the expected ROI and what are the costs. Often answering the ROI question is hard one, but do some research, and you will see that there are ROI models for any type of company.
On Marketing Automation Day you're gonna speak about "The 4 most common mistakes in Marketing Automation, and how to fix them" can you give us a quick preview?
Recent studies showed that only 7% of marketing implementations live up to the expectations. In this presentation I talk about the 4 most common mistakes that marketers make when setting up marketing automation. It will be a combination of research, insights, examples & hands-on tools to get started.
What do you think will be the next big thing within MA?
AI will be a gamechanger, but rather on the long term. Gartner expects a maturity for AI within 10 years, which is quite long. On a shorter run I expect a lot predictive functionalities in marketing technology. Based on the data available, technology can help us recommend the right content or promo for each contact, based on historical data. This has been around for some time, but it's becoming more user-friendly in software.